Shackleton Whisky is made for adventurers. But in the age of the always-connected, how do we have an adventure that Shackleton himself would be proud of?
Story
In 1907 Sir Ernest Shackleton personally ordered 25 cases of Mackinlay's Rare Old Highland Malt Whisky to take on his Antarctic expedition. In 2007, a century after the expedition, three cases of the perfectly preserved whisky were discovered, frozen into the ice beneath Shackleton's base camp at Cape Royds. Shackleton Whisky is based on this original spirit of adventure.
Shackelton's marketing campaign hung around this embodiment of adventure - how could consumers lead a more adventurous life? 
In today's always-connected world, adventures like that of Shackelton's seem out of reach. It's nearly impossible to go off-grid and experience an authentic adventure truly. We set out to make this easy.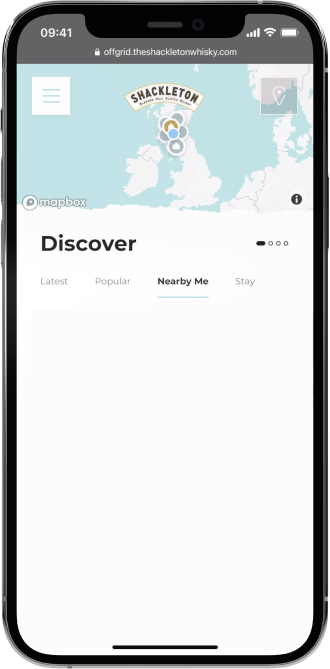 Solution
Planning your adventure was the core problem we focused upon. Where are you going, how are you getting there, and who are you going with?
Our solution was a platform that showcased the UK's best off-grid locations upon an interactive map, detailed the route to get there and integrated with messaging applications to make organisation easy.
Shackelton's creative agency compiled a list of locations from the UK's top Instagram influencers covering the length and breadth of the country.